Dear Neighbor,
This week, our district was hit hard by Tropical Storm Isaias, which brought flooding, damaging winds, and loss of power. I hope you and your family are safe and doing well. I would like to express my condolences to the family, friends, and community of Eliza Talal, a young girl whose life was lost during the storm in nearby Towamencin Township. I also want to extend my gratitude to the incredible first responders who searched for her, answered hundreds of emergency calls, performed many water rescues, and gave their all to help us weather this powerful storm.
In this week's newsletter, you can find information about a second round of Pennsylvania small business grants, job opportunities, the policy hearing I hosted about school reopening plans, and more.
For additional COVID-19 resources, please visit senatorcollett.com/coronavirus. If you need assistance, you can contact my office at senatorcollett@pasenate.com or leave us a message at 215-368-1429. We're here to help. Follow us on Facebook and Twitter for the latest updates.
Wash your hands, wear your mask, and stay well.
Sincerely,
Senator Maria Collett
12th Senatorial District
Small Business Grant Program Round 2
Calling all small business owners! The COVID-19 Relief PA Small Business Grant Program will reopen for a second round of applications at 9am on Monday, August 10 and close at 11:59pm on Friday, August 28. Please note this will be the final application window for this program.
Learn more at www.pabusinessgrants.com and reach out to my office for assistance at senatorcollett@pasenate.com or 215-368-1429.
For those who have already applied, we have been told awards will be announced on Monday. If you don't get one, your application will be automatically reconsidered in round two.
Policy Hearing: Reopening Schools Responsibly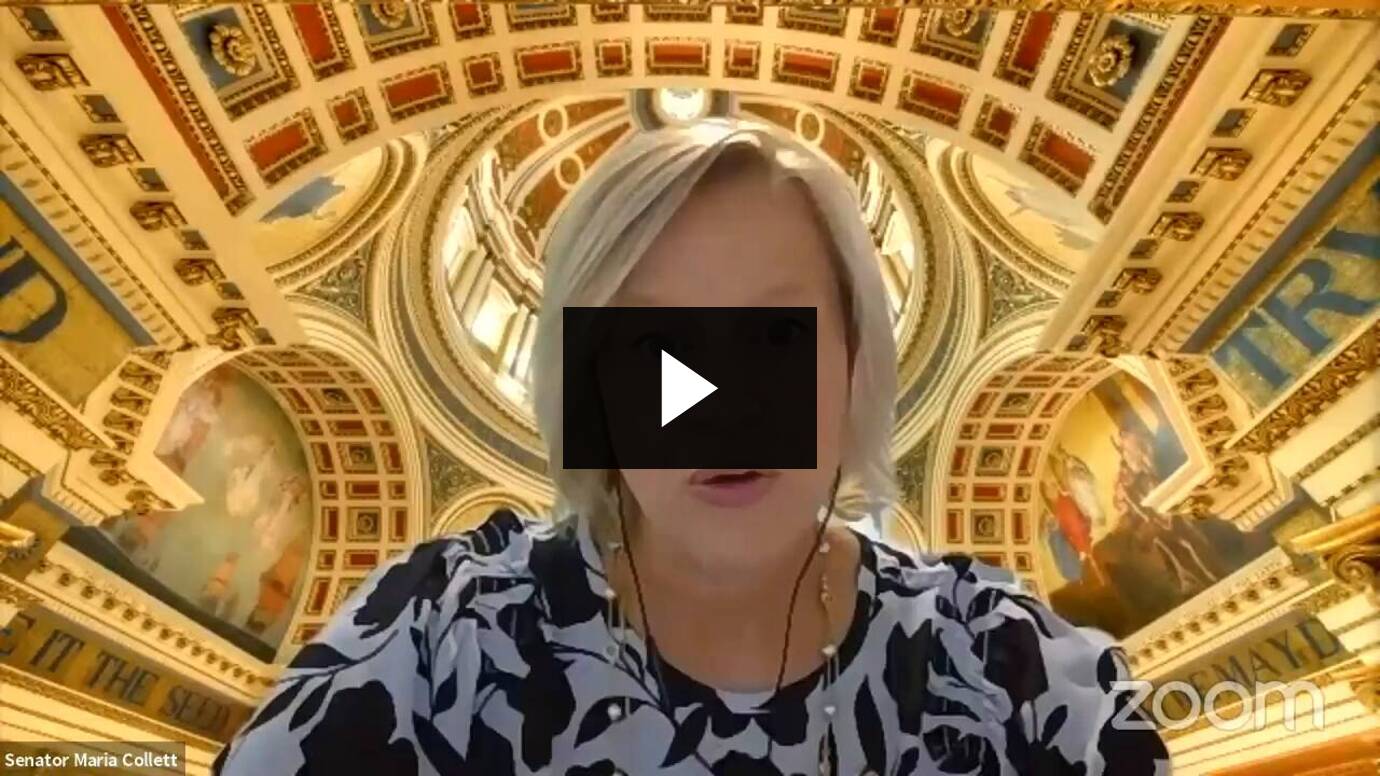 As a mother to a third grader and as a nurse, I know that all school reopening options come with risks and flaws. This week, I hosted a policy hearing where we heard concerns and suggestions from educators, students, union leaders, and policy experts on the issue. I'm especially grateful to my teacher constituents Ms. Goodrich and Mr. Durand for lending their powerful personal perspectives.
Whether schools are deciding to start the year fully online or offering in-person learning options, one thing is clear: they need more support from both the federal and state levels to do so effectively, safely and equitably.
You can watch the full hearing on my website.
Warminster Grab & Go Meals
YWCA Bucks County is offering free grab-and-go meals for children under 18 every Monday from 11am-1pm at Aspen Grove in Warminster (120 East Street Rd, Apt L4-2). All families are welcome, and children do not need to be present to collect meals. There will also be free fruit and veggies provided by Rolling Harvest Food Rescue and educational materials to keep kids engaged.
You can find additional food assistance programs in our district here.
Celebrate Farmers Market Week
Have you visited your local farmers market this summer? August 3 through August 8 is National Farmers Market Week, the perfect time to do so. Support local farms and small businesses by checking out one of the markets in our district! (And don't forget your mask!)
PA Hiring Remote Contact Tracers
Looking for a job you can do from home? The Pennsylvania Department of Health is hiring and training 1,000 paid contact tracing staff across the Commonwealth, including the Philadelphia area. These full-time and part-time positions will be remote and pay $17 to $20 an hour plus benefits. Contact tracers are a crucial part of PA's COVID-19 mitigation strategy. Learn more and apply here.
You can find other job opportunities in your area on PA CareerLink.
Poll Workers Needed!
Help your community practice the right to vote by becoming a poll worker! While I encourage everyone to vote by mail this year, our physical polling locations still need to be fully staffed on November 3 to make sure everyone is able to vote. Poll workers are paid and trained by the county. I especially encourage young voters to apply! Fill out an interest form or contact your county to get started:
Montgomery County
Bucks County:
COVID-19 Resources
Call: 1-877-PA-HEALTH (1-877-724-3258)



Call: 800-CDC-INFO (800-232-4636)



Call: 215-368-1429 (Please leave a detailed message and we will return your call as quickly as possible)
Email: SenatorCollett@pasenate.com
Stay Connected
Looking for assistance? Want to share your thoughts on legislation or community issues? You may email us at senatorcollett@pasenate.com or call us at 215-368-1429 if we can be of service.
Stay up-to-date by 'liking' my Facebook page and following me on Twitter and Instagram.
Offices of State Senator Maria Collett
All offices are temporarily closed to visitors due to COVID-19.
North Wales Office
Gwynedd Corporate Center
1180 Welsh Road | Suite 130
North Wales, PA 19454
Phone: 215-368-1429
Fax: 215-368-2374
Warminster Office
1410 W. Street Road
Suite A
Warminster, PA 18974
Phone: 215-674-1246
Fax: 215-674-1361
Harrisburg Office
183 Capitol Building
Senate Box 203012
Harrisburg, PA 17120-3012
Phone: 717-787-6599
Fax: 717-783-7328